So this Mother's Day was my first, and oh my goodness I don't think this one could be topped...
So my day started bright and early as Jamie had told me we were going back to Kent (where we went to University and lived for three years) for the day.
First stop was Broadstairs. The weather was not brilliant, but I love Broadstairs whatever the weather and a nice brisk walk along the front and cups of tea suits me perfectly!
Sorry the pics are not that good quality, I took my Cannon then stupidly forgot to bring the memory card for it... doh! So the phone had to do...
After a stroll, we went into a local pub which had changed loads since we lived there! Much nicer!!
A trip to the seaside wouldn't be complete without a visit to the amusements!
After a lovely morning in Broadstairs we headed to Canterbury to look round the shops and the Cathedral (where we graduated from University). I love Canterbury it is so pretty, filled with history.
When we got to the Cathedral Jamie got very giggly. I knew what was coming and Jamie became very very nervous. We found the gardens, where we had many pictures taken at our graduation and Jamie got down on one knee...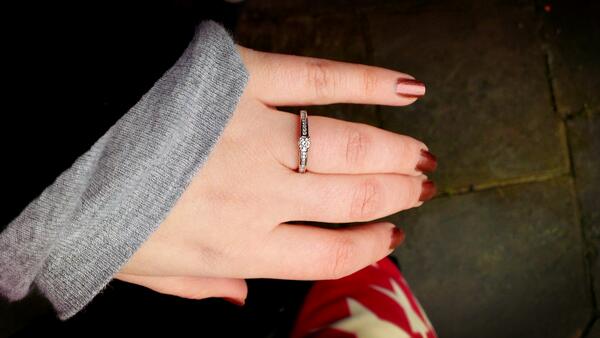 The best Mother's day present ever, making our little family more complete.
Hope all the Mummy's out there had a wonderful day, also happy Mothers day to my Mummy, who as I write this is browsing online at Mother of the Bride Outfits!